IBA-CICT and Total Communications, Pakistan ink MoU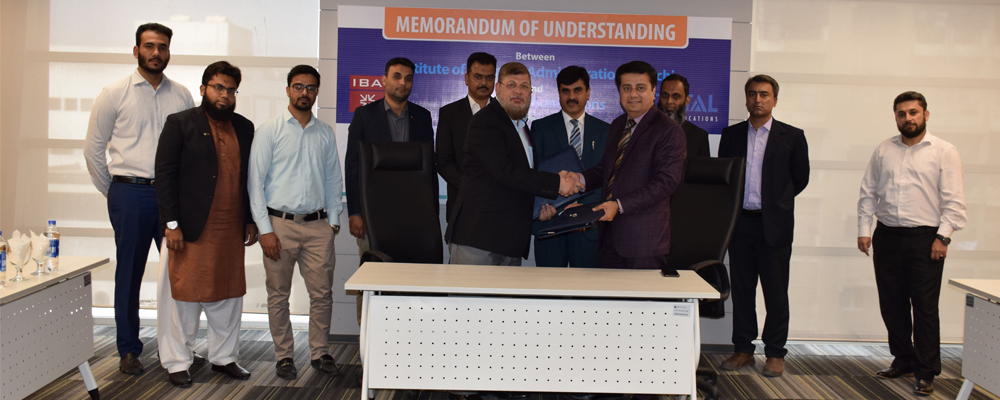 April 24, 2019: Center for Information and Communication Technology (CICT), IBA Karachi and Total Communications Pakistan, signed a Memorandum of Understanding (MoU) to establish IBA-CICT's participation as an Academic Strategic Partner in the 11th International Information Security Conference (InfoSec) 2019 to be held on July 3, 2019 at the IBA, city campus. The MoU was signed by Director ICT & CICT, IBA Karachi, Mr. Imran Batada, and CEO Total Communications Pakistan, Mr. Faisal Rahim.

The ceremony was attended by C-level Executives including CEO Digital Arrays Private Limited, Mr. Asif Riaz, Chief Information Security Officer of Bank Al Falah, Mr. Mehzad Sehar, and COO Kenwood,Adnan A. Khan.

This is the second time that IBA Karachi is collaborating with Total Communications for the InfoSec Conference.

Mr. Batada in his welcome note appreciated the efforts of the InfoSec Conference team. He told the audience that despite the importance of Information Security in today's Information Age, Information Security has been neglected. He also highlighted the diploma program of Information Security offered by IBA- CICT.

Mr. Rahim said in his address that the collaboration between IBA-CICT and Total Communications will turn this year's conference a good learning experience for the participants.

InfoSec Conferences are held annually in Pakistan. The conference focuses on different aspects of Information Security. Executives the financial sector, telecom industry, armed forces, intelligence agencies, ministries, foreign missions, academia, and technology companies attend the conference.