Marketing Department
Malahat Awan
Director - Alumni, Corporate Relations and Communications
mawan at iba.edu.pk
Ext: 1200
Mrs. Malahat Awan is an experienced and successful corporate affairs specialist, with twenty two years of management experience. She holds a Masters in Economics from Quaid-e-Azam University, Islamabad. Before joining the IBA, she was associated with British Deputy High Commission, Karachi as Head of Corporate Affairs. She has also served in the British Council, UNDP and Asian Development Bank. Malahat would be responsible for all administrative functions of the office of the Alumni Affairs, Job Placement, External Relations and Resource Mobilization.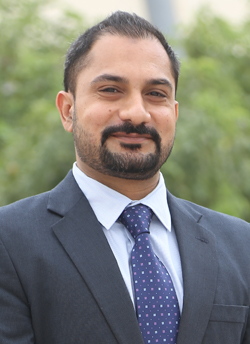 Haris Tohid Siddiqui
Senior Manager, Corporate Relations & Communications (CRC)
hsiddiqui at iba.edu.pk
Ext: 1206
Mr. Haris Siddiqui carries a cross industry experience of Sales & Marketing of more than a decade in Media, Education and Insurance Industry. He has worked for GEO TV, the IBA Karachi and Jubilee Life Insurance in various capacities and is a contributor to national dailies.
Christopher Vaz
Assistant Manager, Marketing
cvaz at iba.edu.pk
Ext: 1210
Mr. Christopher Vaz holds a Master's degree in Marketing and has a diverse experience of working in the Communications and Marketing industry. Prior to the IBA, he has been associated with prestigious institutions which include K-Electric, Lucky Cement and Marie Adelaide Leprosy Centre (MALC) in various internal communication and marketing capacities.
Mahwish Butt
Assistant Manager, Marketing
mbutt at iba.edu.pk
Ext: 1817
Ms. Mahwish Butt holds a Masters in Economics from University of Karachi, and has been a part of IBA's workforce since 2007. She first held a Senior Executive position at the Program Office till 2012. Currently she works as an Assistant Manager Marketing.