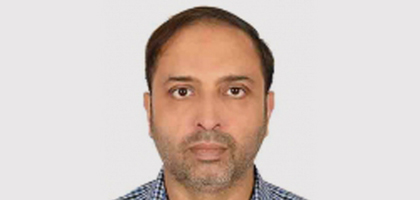 Research Publication
IBA faculty co-authors a paper on labour market dichotomy
Dr. Abdullah Z. Sheikh, Associate Professor, Department of Management, co-authors a research paper "Dodgy Labour Market Dichotomy: The Repercussions of Sneaky Labour Intermediaries on Employees' Constitutional Rights" Labor History, which was published in A category (ABDC) & W category (HEC) accredited journal.
https://doi.org/10.1080/0023656X.2020.1864308
Abstract
The flexibility inherent in temporary agency work allows employers to cut labour cost in a variety of ways. Recurring themes in the employment literature draw attention to the duality of the labour market rooted in type-of-contract segmentation. This duality in the labour market carries with it a number of undesirable consequences. Drawing on qualitative data from six case studies in Pakistan, this paper reports on an in-depth study of deceitful labour market intermediaries, through which employers attempt to bypass statutory obligations concerning workers' constitutional rights. A case study inquiry, based on qualitative interviews, suggested that the agencies were 'created' or 'arranged' to illustrate indirectness of employment relationship by misclassifying effectively permanent employees as 'agency workers'. The evidence points towards a growing trend for agencies to be, simply, a sham arrangement. This study broadens our comprehension about the nature of temporary agency employment and subsequent labour market duality in Pakistan, beyond the traditional functional model of legitimate labour market intermediaries. Precarious work in Pakistan, a large and growing economy, shares many features in common with the rest of the world. These findings offer useful policy and social implications for national and multinational companies.
---
Dr Abdullah Z. Sheikh – Publications in Academic Year 2019-2020

Journal Papers
Arain, G, Hameed, I, Umrani, W, Khan, A, and Sheikh, A (2020) "Consequences of Supervisor Knowledge Hiding in Organizations: A Multilevel Mediation Analysis" Applied Psychology: An International Review, DOI:
https://doi.org/10.1111/apps.12274
A Journal (ABDC, Australia), 3 Star (ABS, UK) Clarivate Analytics, Impact Factor: 3.265
Hussain, B, Sheikh, A, Timmons, S, Repper, J and Stickley, T (2020) "Workforce diversity, diversity training and ethnic minorities: The case of the UK National Health Service"' International Journal of Cross-cultural Management, 20 (2), PP. 201-221, DOI:
https://doi.org/10.1177/1470595820938412
B Journal (ABDC, Australia), Clarivate Analytics: ESCI
Butt, A., Shah, H and Sheikh, A (2020) "Is Guanxi Important in a Buyer-Supplier Relationship? Case of Chinese Logistics Industry" Journal of Asia Business Studies, 14 (1), pp: 1-14
ABS, UK; ABDC, Australia; Clarivate Analytics: ESCI
Anser MK, Yousaf Z, Hishan SS, Nassani AA, Sheikh AZ, Vo XV, Zaman K and Qazi Abro MM, (2020) "Dynamic Linkages between Transportation, Waste Management, and Carbon Pricing: Evidence from the Arab World" Journal of Cleaner Production, Vol 269, DOI:
https://doi.org/10.1016/j.jclepro.2020.122151
A Journal (ABDC, Australia), 2 Star (ABS, UK), Clarivate Analytics, Impact Factor: 6.395
Choudhary AS, Khan AM, Sheikh AZ, Jabor KM, Nordin SM, Nassani AA, Alotaibi MS, Qazi Abro MM, Vo XV and Zaman K (2020) "Role of Information and Communication Technologies on the War against Terrorism and on the Development of Tourism: Evidence from a Panel of 28 Countries", Technology in Society, Vol 62, DOI:
https://doi.org/10.1016/j.techsoc.2020.101296
ABDC, Australia; Clarivate Analytics, SSCI: Impact Factor: 1.670
Okpebholo, E and Sheikh, A (2020) "Optimization of the Non-Monetary Reward Provisions: Evidence from the UK Banking Sector" Business Review, 15 (1) pp: 1-18 (IBA Karachi Journal)
Ali, M., Sheikh, A., Ali, I., Jinn, P and Sumbal, M (2019) "The moderating effect of supervisor–subordinate guanxi on the relationship between transformational leadership and organizational effectiveness' Journal of East-West Business, 26 (2), pp: 161-192
ABS, UK; ABDC, Australia; Clarivate Analytics: ESCI
Book Chapter
Umrani, W, Shaikh, S, Sheikh, A, Khuwaja, M and Memon, P (2020) APS: A Decision Dilemma in Case studies on Contemporary Practices in Management and HR Martison Publishers, United Kingdom, pp.119-128, DOI: 10.33166/978-1-9163014-0-5/c13
Conference Paper
Arain, G, Hameed, I, Umrani, W and Sheikh, A (2019) "Whether and How Subordinates Passively Respond to Top-Down Knowledge Hiding in Organizations" Academy of Management Proceedings Vol. 2019, No. 1, Academy of Management Annual Meeting, Boston, USA, August