Information Session for UG programs conducted at Commecs College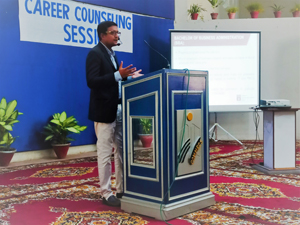 November 5, 2020: The IBA Marketing department visited the Commecs College for an information session with the students. The session was attended by Intermediate students in-person and virtually. A comprehensive presentation was given to the students which encompassed various aspects of the IBA experience, including essentials of all the undergraduate programs, admission criteria, NTHP program and student life at the IBA in general. This was followed by an interactive Q&A session.
The students were enthusiastic and interactive throughout the session. Many claimed that the opportunity to be present for such a session was 'unmissable' as it gave valuable insights towards making an informed decision about opting for higher studies.